Standards are necessary to harmonize the differences from developed ideas with varying backgrounds, cultures and contexts. Some of the standards of interests here are applicable in other design and disciplines. Nonetheless, the need to find the appropriate standards to guide the integration of e-Learning environment is necessary and important. One key standard in the AOLA framework is the 'Activity' specification, or ActivityML (Activity Markup Language). There are standards such as SCORM

and RELOAD

, but they are not necessary as narrowly focused as ActivityML on only mathematics content.
An activity is used to initiate a process with a goal of the learner to reach a certain level of understanding of a topical subject. Leveraging the Web technology, it is intended that the learner can interact with intelligent mathlets and online participants of interests, explore further or other presentations, and assess his or her own progress. For the teachers, ActivityML will be the final representation of their authored activities that enables such learning experience. Thus, the specification of ActivityML is a challenging task as the metalanguage links the teacher and the learner via technology. It must be expressive to allow the teacher to provide different learning paths, yet it is explicit such that technology can enable the learning experiences of the learners to the fullest allowable. That is, technology is not bounded by the ActivityML specification.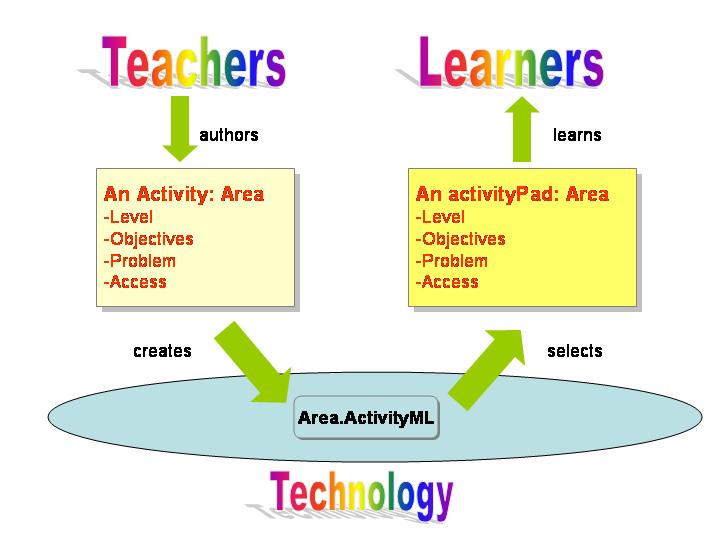 Standards and Technology
Technology has been an excellent enabler in visualization of mathematics, giving another dimension in learning and education. The Web technology bring access to a common platform that sharing of experiences becomes possible and easy. Yet the development of Web technology needs a focus on mathematics education, and SIGAOLA is an attempt to provide an integrative approach to bring technology into one where activities for learning can be AOLA'ed. We suggested [Chu, 2005] recently that a scan of the technology landscape for mathematics and mathematics education should be carried out to provide the communities a glimpse of what is and what will be.
In here, for standards, we will look at
Suggest topics and/or directions by sending me (schu@any2any.net) an email.